The Sacred Way,also named Divine Road or Shen Dao in Chinese,is not to be missed of your Beijing Tour. It is a path,7 kilometers long and consisting of the huge Memorial Stone Archway,the Great Red Gate,the Stele Pavilion,the Stone Creatures and the Dragon and Phoenix Gate.In ancient times,it is said that the emperor,known as the Son of the Heaven,would came from Heaven to his country through the Sacred Way,and also return to Heaven through this road.Among the many Sacred Ways,the one at the Ming Tombs is the best preserved and most complete.
Leading to the imperial tombs,the path,slightly curved to fool evil spirits,is lined on either side with willows and remarkable carved stone animals and human figures,considered among the best in China.The stone statues lined on each side are 12 human figures and 24 animals which are lion,camel,elephant,xiezhi(a mythological unicorn),qilin (one of the four 'divine'animals,the other three are dragon,phoenix and tortoise) and horse.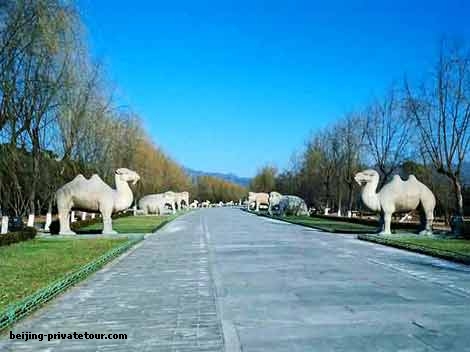 Transportation:
1.Take bus 345 Express at Deshengmen West Station,get off at Chang Ping Dong Guan Station,and take bus 314 or 925 to get off at Changling Station.
2.Take Subway Line 13 to Huilongguan Station and then change tobus No.878 to Changling Station.
Admission Fee:
April 1 to October 31: CNY 35
November 1 to next March 31: CNY 25
Opening Hours:
April 1 to October 31: 08:10 - 17:30
November 1 to next March 31: 08:30 - 17:00
When is the Best Time for a Tour?
Although it is suitable for touring all year round,but the best time is April,May,September,and October,when the temperature is favorable,neither too cold nor too hot.But try to avoid May Day Holiday (from May 1st to 3rd), and National Day Holiday (from October 1st to 7th) when there will be crowded tourists.