I guess you may heard of Chinese Acrobatic Show.If are going to have a Beijing private tour,the Chinese Acrobatics Show will be highly recommended in ChaoYang Theater.You need to see one of the arcobatic shows in Beijing before leaving China or you will never know how the human body is capable of doing.The talent at this show is amazing.The balance and skill involved is unbelievable.
Chinese acrobatics is a pearl in the treasure house and ranks among the best arts in the world.The history of acrobatic show has been existent for more than two thousand years.The acrobatic shows is characterized by feats of strength and daring performed cleverly,precisely and accurately,and the ability of retaining balance in motion.To become a competent acrobat,students must has long stressed the basic training of the waist and legs from the time they are only 6 or 7 years old.Because the techniques employed in acrobatics are extremely difficult and risky,students must endure a good deal of pains for their gain.In the long course of development,the Chinese acrobatic art has formed its own style.The ancient acrobatics stemmed from the people's life and had a close link with their life and productive labor.Instruments of labor like tridents wicker rings,tables,chairs,jars,plates,and bowls were used in their performances of "Lion Dance",Jar Tricks","Hoop Diving""Flying Trident","Spring-Board Stunts","Balance on Chairs"," and etc.When you watch a acrobatics show,you are strongly impacted both mentally and physically.It is truly and unforgettable experience.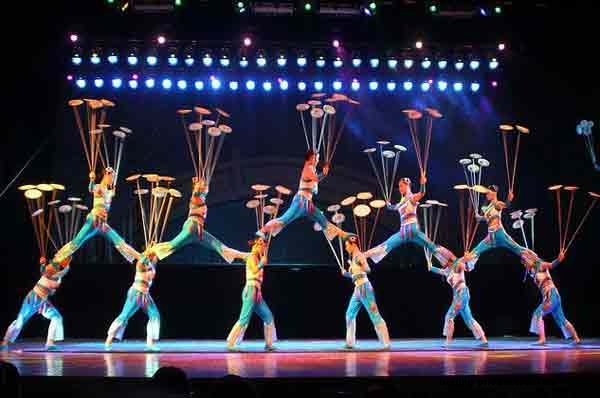 The ChaoYang Theater is located in 36 North East Third Ring Road, ChaoYang District, Beijing.You can take subway line 6 or 10 Hujialou Stop exit C1, 100 meters south of the stop or take bus 9, 112, 118, 101, 830, 846, 859, 420, 611, or 113 to Hujialou Station.Enjoy the Chinese Acrobatics Show during your Beijing tour!
Admission Fee:

Rows 1-4: CNY 280 (discounted price: CNY 220)
Rows 5-6: CNY 680 (discounted price: CNY 540)
Rows 7-8 VIP: CNY 880 (discounted price: CNY 700)
Rows 9-10: CNY 580 (discounted price: CNY 460)
Rows 11-12: CNY 480 (discounted price: CNY 380)
Rows 13-14: CNY 380 (discounted price: CNY 300)
Rows 15-23: CNY 280 (discounted price: CNY 220)