If you are planning a Beijing Tours,then you must have a try of Peking Roast Duck.The history of the roast duck can be traced back to as early as the Yuan Dynasty when it was listed among the imperial dishes in the Complete Recipes for Dishes and Beverages.According to the local history,the earliest roast duck restaurant in Beijing was the old Bianyifang Restaurant,which opened during the Jiajing reign.During the Qianlong period,roast duck was a favorite delicacy of the upper classes.To satisfy the growing demand for roast duck,and with an eye on the profits to be made from a good name,many restaurants opened from a good name,many restaurants opened under the Bianyifang name.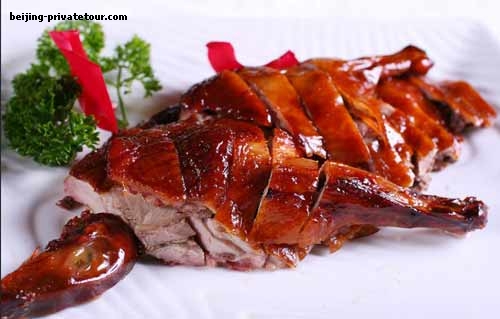 There are many nice roast duck restaurants such as Liqun Roast Duck Restaurant,Hua's Restaurant,Jinbaiwan Roast Duck Restaurant,Dayali Roast Duck Restaurant,Da Dong Roast Duck ,Jiuhuashan Roast Duck Restaurant,King Roast Duck,Made in China Restaurant,Bianyifang Roast Duck Restaurant,Quanjude Roast Duck Restaurant.But the best duck restaurant is Quanjude Roast Duck.There are many branches in Beijing city.It has a history of nearly 150 years.Wangfujing Branch of Quanjude is highly recommended.It's located at No.9, Shuaifuyuan Hutong,Wangfujing Street,Dongcheng District.And the opening hours are from 11:00 to 14:30,16:30 to 20:00.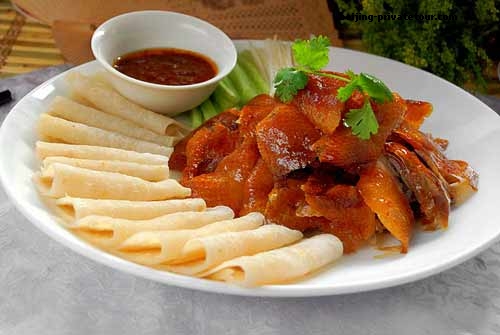 A proper way to eat Beijing Roast Duck can be divided into 3 steps.First,pick up a slice of duck with the help of a pair of chopsticks and dip it into the soy paste.Next,lay it on the top of a thin cake and add some bars of cucumber and shallot.Finally, wrap the stuff into abundle with the sheet cake.The real secret of Peking duck's flavor lies in your carefully nibbling away at the mixture.You will find all the different ingredients very compatible.People say: "it's a pity to leave Beijing without trying the roast duck.The taste of the roast duck is in the eating.Have a nice food of Peking Roast Duck during your Beijing Tour!