Do you want to visit Beijing Panda House to see the lovely Giant Pandas? Do not wait any more and then plan a funny Beijing tour! Beijing Zoo is the largest zoo in China with the largest number of animal species. It was the first zoo to open in China. There is a panda house in the zoo, which is one of the most popular enclosures there. For those who can make their tour to Chengdu, Beijing Panda House is a good alternative for seeing pandas. As 99% of the western visitors of Beijing Zoo, they mainly go to see the Pandas. The Pandas are individually housed in a large reservoir with plenty of fresh bamboo. If you are a zoo lover, consider to spend long hours there!
Beijing Zoo is situated in the Xicheng District, it was the first to be opened in China. It contains a diverse collection of animals, a number of exhibition halls and some sites of historical interest. The zoo now has around 600 different species of animal, with the total number of all animals amounting to over 5,000. There are dedicated houses for pandas, hippos, rhinoceros, giraffes, elephants, amphibians, reptiles, golden monkeys, orangutans, otters and other animals. In the two-storey house for amphibians and reptiles, visitors may see Yangtze alligators, crocodiles, tortoises, turtles, snakes and pythons. The magnificent and attractive Beijing Aquarium situated at the north end of the zoo is the biggest inland one in Asia, allowing people to explore the spectacle of the sea world.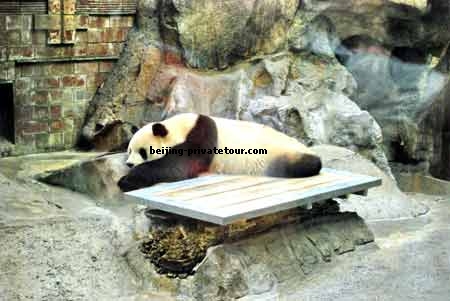 Transportation:
By bus: take bus no.360, 347, 362, 534, 714, 87, Yuntong 106, Yuntong 104, 563, Yuntong 205, Te 4, 608, 107, 105, 111, Yuntong 105, 27, 632 and get off at Dong Wu Yuan Station.
By subway: take subway line 4 and get off at Dong Wu Yuan Station, get out of the station from Exit A and you'll find the south gate.
Admission fee:
Entrance Fee: CNY 15
Entrance Fee and Panda House: CNY 20
Entrance Fee, Cruise Ship and Panda House: CNY 40
Entrance Fee, Beijing Aquarium and Panda House: CNY 130
Opening hours:
Apr. 1 to Oct. 31: 7:30 - 18:00
Nov. 1 to the next Mar.31: 7:30 - 17:00